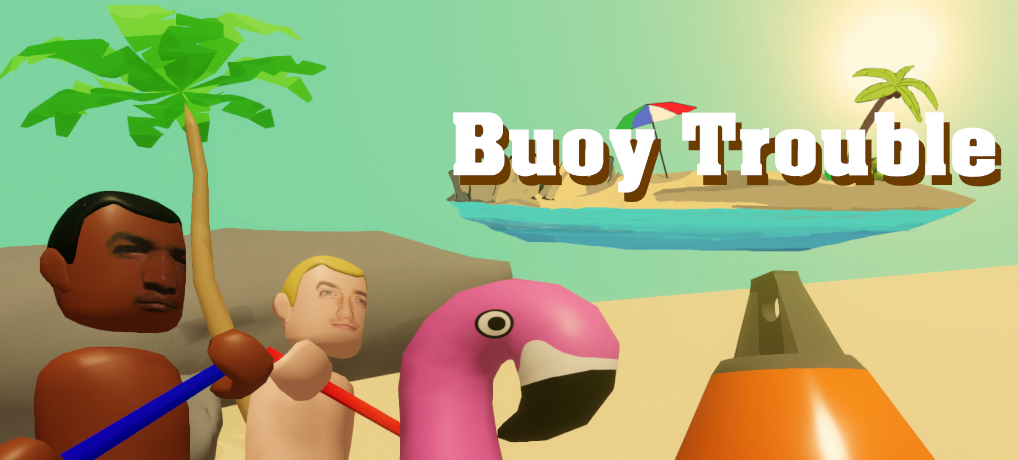 Buoy Trouble
A downloadable game for Windows and macOS
Welcome to Buoy Trouble!
In this challenging single player/local co-op rowing game you have to time your oar strokes to avoid obstacles and get to the beach! Be careful not to bump into any rocks or else you might get a puncture that pushes you around. If you can't get to the beach before the air pressure runs out you'll sink! (Some players use this extra push to their advantage).

Have fun rowing with the buoys!!
CONTROLS
| | | |
| --- | --- | --- |
| | Begin oar stroke | Perform oar stroke |
| Left oar | A | Z |
| Right oar | K | M |
The position and colour of the oar after the first key is pressed will determine the strength of the stroke. Timing the button presses differently means you push at different amounts!
Is this game single player or local co-op?
Both! The dinghy is controlled by two sets of keys on the keyboard that can either be controlled by one player or two. The levels are balanced more towards the local co-op experience so players playing it as a single player game may find it easier as you have more control over timing your strokes.

Credits
Programmer and hunk no.1 - Rory Maclennan
Animator and 3D Artist - Linus Dawson
Music and Sound Design - Kai Jenkins

Graphic Designer - George Cozens
Announcer - Thomas Jenkins
Oof sound and hunk no.2 - Hardy Nyirenda
Post Jam Update
Fixed UI scaling issues so it should now work on most monitors
Fixed oar stroke system and added a slight glow effect to make it slightly easier to determine the stroke strength.
Swapped some levels around and replaced one with a newer version to try and smooth out difficulty curve
Added better camera system so that it follows the player's horizontal position as some players were unable to see the whole level due to their screen size
Things to come!
Accessibility options:

Custom keybindings
Colour blind mode
Optional charge metres to make it easier to determine the stroke strength without relying on the change in colour

More levels! (After refactoring the whole level system which is currently a mess lol)
Adding a timer and award system so you can see how fast you've completed levels
Adding water currents that push around buoys and the dinghy
This game was made in it's entirety (including music, models and animations) during the 48hour GMTK2020 game jam! This was also the first time any of us have participated in a game jam so feedback would be greatly appreciated!

Install instructions
| | |
| --- | --- |
| Windows | Unzip the folder and run the executable |
| Mac OS X | Unzip the folder and run the app. As the app is currently unsigned you may be required to give it access in your security settings |
Download